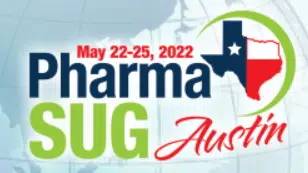 SimulStat is honored to be a Gold Sponsor of the upcoming PharmaSUG conference in Austin, Texas happening May 22-25, 2022.
In addition to the annual Paper Presentations, our team is looking forward to attending PharmaSUG's first Diversity, Equity & Inclusion (DEI) Panel Discussion. We are strong believers in the importance and benefits of advancing workplace diversity in our industry.
Connecting with old friends and making some new ones is also an important part of the conference. That's why we're inviting all attendees to stop by our booth and chat with the team. During your booth visit, we'll share stories about how our statistical programming services and staffing solutions are improving efficiency of clinical trials.
We'll also be announcing job opportunities, so if you are looking for new projects, be sure to introduce yourself to one of our senior recruiters. We'll be accepting resumes for remote, part-time, and full-time work in statistical programming and biostatistics during the conference.