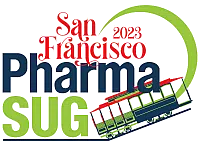 The pharmaceutical industry is evolving at a rapid pace, with advancements in technology, data analysis, and statistical methodologies playing a pivotal role in driving innovation and improving patient outcomes. In this dynamic landscape, conferences like PharmaSUG provide a platform for professionals to come together, exchange knowledge, and stay at the forefront of industry trends. That's why SimulStat is proud to be a Gold Sponsor of this year's conference happening in   San Francisco, May 14-17, 2023.
This year's theme "Putting Digitalization to Work" promises to be the premier event for statistical programmers, statisticians, data managers, researchers, and others who analyze data in the life sciences.
During the event, we invite all attendees to stop by the SimulStat Booth #200, meet the team and learn how we can enhance the efficiency of clinical trials. We'll also have our human resources team available to share latest job openings for talented biostatisticians, statistical programmers and more. We look forward to seeing everyone at PharmaSUG 2023!